MAYA-GAIA INTRODUCTION & SITEMAP Page Update 08 24 07
Note: My Anthropic Trilogy web-book, evolving since 1997, is a chronicle of my passing all considered opinion through the lens of my Nirvikalpa Samadhi with both an open-mind and healthy skepticism.
Bhakti Kirtan and Bhajan
Video Introduction to Hindu and Sikh Devotional Song with Music
In looking for a format to express my deist devotional feelings for God, I followed up on some links to Bhagavan Das I had used to compare his Shakti to my Gaia. This led me to investigate the world of the bhakti kirtan which I discovered- in concert with the bhajan- may compose the single most extensive, diverse and historic body of musical form ever created. (Since this was my first exposure to accessing audio and video files on the Internet- my data may seem primitive to anyone savvy in audio/visual, streaming technology.)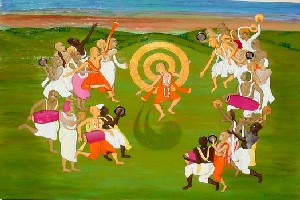 The classical kirtan consists of a call of a short devotional phrase or mantra sung by a swami that the congregation repeats in a rhythmical chanted response. An orchestra historically provided by drums, flutes, cymbals, and various archaic stringed and wind instruments accompany the vocalization. The harmonium was introduced in the colonial period and is conspicuous in the traditional Sikh kirtan. It is also popular for adding its uniquely complex and subtle sounds to reinforce the mystical atmosphere of the 'performance' kirtan and bhajan in the west. Recently other kinds of drums like the African djembe as well as modern instruments have appeared in both western and eastern kirtan and bhajan. Unless skillfully melded into the acoustical tradition, a tension between spontaneity and spiritual harmony may arise. In their birthplace in India, the sub-genre range from the subdued, formalized Sikh shabad kirtan through the often highly demonstrative, participatory Bengali and Hindustani kirtan to the completely theatrical bollywood productions with both performers and participants carefully costumed, choreographed and showcased in a staged setting. Sectarian Hindustani kirtan are generally dedicated to the honor of specific deities with all the devotional energy centering on effigies of the beloved enthroned on a decorated stage - Krishna and Radha, Durga and Kali among the most popular. The shabad kirtan of Sikhism has more the character of a bhajan in that the performance by the guru and orchestra is not demonstrably responded to by the audience other than an occasional coordinated raising of arms in a worshipful gesture upon certain cues in the hymnal so it is assumed the response is essentially internalized as in an attentive but silent, prayerful congregation.
Both the kirtan and bhajan have evolved in the west into hybridized- often ecumenical versions ranging from celebrity artist's performances in a concert-like setting to totally unstructured, participatory, musical/dance events. In all venues the music can range from traditional Hindustani to instrumental adaptations from virtually every folk music genre worldwide- from Appalachian blue grass to Celtic riffs and beyond.
Some Definitions:
bhakti: a devotional, performance, practice or yoga
sankirtan: a call and response chanting and orchestration- with wide range of theater and level of response in the congregation from ecstatic dancing to virtual passivity.
harinam kirtan: congregational chanting of the holy names.
bhajan: a performance of sung hymnals with orchestration with audience in attendence.
shabad: the sound that cuts away the ego that occludes the truth.
kirtan walla: chant leader.
dhrupad: a repertoire of short songs (dhrupads) which are performed by a solo singer, or a small number of singers in unison, to the beat of a double-headed barrel drum, the pakhawaj.
satsang: devotional speech and chanting programs for the upliftment to "truth" and expression of divine love consciousness of a devotee.
sadhana: a key form of meditation through which a practitioner aims to achieve union or identity with a particular divinity or acosmic reality.
puga: certain devotional practices performed by Hindus, Balmikis, Buddhists and Jains
darshan: a meeting with a swami, place or idol by which one literally "sees" or experiences the deity of devotion.
Carnatic or Karnatak music is the classical music of South India, as opposed to the classical Hindustani music of North India.
Nada Yoga: the ancient science of communing with God through sound.
Taize prayer: a kind of Christain kirtan.
Traditional Hindustani kirtan instruments: double-headed drum (khol, mridangam) pair of large and small drums (tabla), flute (bansri) cymbals, sitar, harmonium
For definitions of any word, go to Google search and enter> define:word (Replace 'word' with your query).
Kirtan Wikipedia: Popular singers in the Western kirtan tradition include Krishna Das, Karnamrita Dasi, Ragani, Aindra Das, Vaiyasaki Das, Jai Uttal, Vamadeva, Deva Premal, Krishnadas
Bhajan Wikipedia: bringing bhajans into everyday culture
Indian Music A further breakdown of musical styles that have evolved from traditional Indian music.
As with all things musical and participatory the best way for an overview is to experience a selection of videos from the major categories- not to suggest this presents a definitive sampling of the genre by any stretch. Both the Indian Bollywood Productions and Sikh Kirtans have thousands of free video and audio downloads. There are videos and audio both for purchase and free in India and in the west by orgs like ISKCON (Hare Krishna) and popular swamis and performers. A Google search of kirtan video will yield a plethora of links on youtube, myspace, video.google and video.aol to free clips and extended (mostly amateur) videos of both celebrity bhajan performers and more spontaneous and participatory kirtan by both high profile and obscure singers and musicians. Kirtan mp3 Audio Tracks Listen audio clips of top artists in genre of east/west kirtan synthesis: Kristan Das, Jai Uttal, Bagavan Das, Singh Kaur, Karamrita dasi, Dya Singh, Vaiyasaki Das, Snatam Kaur and dozens of others. Buy mp3 full tracks via Amazon typical for $.99. Sampler or extended soundtracks are also available in portals at amazon, emusic and many others.
Free full-track kirtan mp3 downloads
Annarbor Kirtan Group offers free downloads of over a dozen mp3 (average 10 min) excellent, in-house, kirtan chants plus index to kirtan sites worldwide.
Vamadeva Jaya Tracks from CD albums and kirtan videos at Studio Be Yoga Boulder, CO and elsewhere.
Harimedia Hosting collection of mp3 songs from artists participating in a spiritual music-sharing facility.
Namaste Yoga Center Kirtan group, Ashville, NC
(For informing others- media-challenged like myself) Windows Media Player uses mp3 audio files as soundtrack for a variety of programs showing continually morphing abstract visual compositions viewed on a large theater screen. It also plays youtube video (wmv format) which you can convert and download to CDs. See WinMediaPlayer file formats.
An excellent free application for downloading video from youtube and other sources and converting files for various playback, is save2pc.
Contemporary Hindu Kirtan
Kirtan Community A virtual kirtan gatherings of YouTube playlists featuring various artists (mostly) singing in the traditional call-and-response format. Each program plays for 45 to 75 minutes.
Contemporary Sikh Shabad Kirtan
Shabad Kirtan youtube of Dharmik Song - Guriqbal singh ji-sant ka maarag dharam ki pauri at Sikh congregation with performers Katha Gurmat Veechar, Dhadi Vaaran, Paath Sahib (over 1 hour). A typical Sikh kirtan (but really more a bhajan) where the swami and performing group is on a mike on stage and the large seated congregation (divided by gender) is essentially passive. There is activity in the dividing center aisle where members wait in line to take their turn to individually donate coins and bow down in muslim style to the swami.
Bengali Kirtan By Americans - thoroughly participatory rave concert in USA.
Traditional Bengali Kirtan - songs sung to the accompaniment of khol clay drums and karatala & jhampa cymbals- presented in Windows Media Player- 60 min.
Bhajans of Bollywood examples of Bollywood bhajan and kirtan videos.
Hindu Bollywood Pop Culture Mix
Top Bollywood Dancing Songs 2012 youtube video.
Synthesis Eastern/Western Kirtan
Bhagavan Das about Bhagavan Das and kirtan
Bhagavan Das official website
Bhagavan Das Wikipedia
New York Rathayatra Kirtan - Acyuta Gopi dasi and Gaura Vani das- Highly energetic jumping congregation-10 min. YouTube systematically presents links to 40 other related videos.
Acyuta Gopi - 24 Hour Hare Krishna Kirtan Festival 2008- 10 min- Seated but energetic congregation- good sound track.
David Newman aka Durga Das - Seated but very animated congregation young attractive- California clip.
Krishna Das Bhajan performance by Krishna Das on harmonium- accompanied by violinist, drums- 12min.
Kirtan by Aindra das Vrindavana Krishna Balarama Temple 2.
Vamadeva Jaya A lively Hari Krishna Hari Rama kirtan with guitar, Balarama mridangam, etc. at Boulder Kirtan, CO- 9min
Deva Premal Deva Premal sings around the world - The Gayatri Mantra
Ragani celebrity bhajan performer mp3 track.
Update 06 10 2011:
Treasure Coast Neo Kirtan Meetup, Florida
I tried setting up a Meetup website detailing (see below) an invitation to musicians and chanters to join an exploratory group to schedule a weekly Kirtan Meetup in my homwtown Stuart, Floridas but never got a presenter so deleted the website.
Our Kirtan is 'Neo' in the sense that it includes but is not restricted to Hindu religious symbolism or concepts. Our format is adaptive - employing "westernized" kirtan and bhajan songs and orchestration in a neo-spiritual setting. Our satsang (company of truth/knowledge) is integrative and universal so your personal invocation can be sung as Krisna, Christna, Gaia or whatever Ishvara (chosen deity, spirit or non-duality) you are comfortable with. The word "bhajan" means to share and we join in music and chanting for bhakti (devotional love), elevating our spirit, or simply enjoying the group energy. Initially we'll play soundtracks of Krishna Das, Jai Uttal, Wah!, Dave Stringer, Deva Premal, Bhagavan Das, David Newman (Durga Das), etc. and hope to evolve to live music as our local talent emerges. We are open to other sacred/vibrational singing and musicians of stringed instruments, harmonium, keyboard, flutes, chimes and some hand drums (tabla, khol or mridangam) are invited to harmonize with our spiritual ambiance (more restrained in types of instruments and their acoustic volume than an open drum circle or bhakti fest so our chanting and music blend.
Update: 06 20 2011 I tried to get our local Treasure Coast Unitarian Universalist Church to provide a place for our meetup but got shot down in short order
Update: 07 24 2011 It is obvious there is not sufficient interest in our locality to organize regular Kirtan meetups so I am now evolving an active meditation practice so that I can establish communion independently on a daily basis. I have created a webpage describing my tentative practice at Primordial Rhythm Meditation and have an audio/video on youtube where I perform a synopsis demo of the sounds and moves.
Update: 09 13 2018: Subsequently have produced five more videos showing the evolution of my Primordial Rhythm Meditation practice. End Update
Deepak Raja's world of Hindustani Music - A Guide for Enthusiasts of Hindustani raga (North Indian classical) music, contemporary artists and history of instruments.
YellowBellMusic Information about kirtan in the vicinity of my South Florida neighborhood by Richard Brookens, aka Ramananada Das- musician/composer/yoga instructor and other members of the group. Richard has done kirtan with Bhagavan Das and David Newman, aka Durga Das.
The Vox Mundi School of Sound and the Voice is an international project founded by composer, psychologist and voice-culturist Silvia Nakkach. It is an organization devoted to researching, teaching and preserving sacred and cross-cultural vocal music. These session focus on an in-depth study of ragas chants, and the embodiment of rasas (aesthetic emotions).
Harinam Sankirtan Yajna The Art and Science of mridangam drumming.
Big Dog In searching for meditation drum I got algorithm-ed to this totally unrelated but amazing video.
Kumbh-Mela "Festival of the Urn" - Allahabad, India 2001
The rise in popularity of kirtan both in its mother India and its spread by her global diaspora has roots in the demonstrative nature of primordial mankind to join in devotional expression or bhakti. Even as globalization tends towards secularization, this fundamental imperative seems undeniable.
Karma of the Crowd At the Kumbh Mela, the largest religious festival in the world, a throng of millions can be one. By Laura Spinney - Photograph by Alex Webb - National Geographic Magazine, 2014. On February 10, 2013, overcrowding at a railway station in the northern Indian city of Allahabad led to a stampede that killed 36 people. The city was full at the time. Very full. It was hosting the world's largest religious gathering, the Maha Kumbh Mela, and the authorities estimated the number of pilgrims in the city that day hit its peak, at 30 million. The stampede made headlines around the world and is what most non-Hindus remember about the festival. But there's another story about the Maha Kumbh Mela that hasn't been told.
Kumbh Mela: Songs of the River - DVD: Starring: Dr.Andrew Weil, H.H Dalai Lama. The Kumbh Mela is the "Festival of the Urn" that pours out the nectar of immortality. It is a great roving festival that has moved around India for more than four thousand years, erecting temporary cities along the Ganges River where millions of Hindu faithful gather to wash away their sins in the holy waters. The 2001 Kumbh Mela in Allahabad, India was the largest gathering of humanity in recorded history- estimated total over three-day period: 70M - largest single day: 30M. (Compare to the 3M or so muslims that gather for the Hajj in Mecca.)
NASA Satellite image from space of Kumbh Mela 2001 India.
Kumbh Mela Wikipedia provides some great images and links to resources.
One Helluva Holy Morning (expired) The story of the Kumbh Mela 2001 by Bennett Stevens
See Steven's Photo Album . A field report from the perspective of an American writer/photographer suffering one of life's most embarrassing moments in front of history's greatest religious spectacle. Drawing some 70 million Hindu pilgrims, India's Maha Kumbh Mela is not only the world's largest and most colorful religious spectacle, but was in 2001 the largest gathering of humanity ever recorded. Throw a herd of international photographers into the mix, a few thousand naked Naga Sadhus warriors --then ban photography--and you have a recipe for mayhem on a grand scale.
Another almost totally unrelated video: Matt Harding and friends dancing all over the world. Matt is an Internet celebrity known as Dancing Matt for his viral videos that show him dancing in front of landmarks and street scenes in various international locations.
MAYA-GAIA INTRODUCTION & SITEMAP